Self Service Point of Sale System - Self Service Kiosk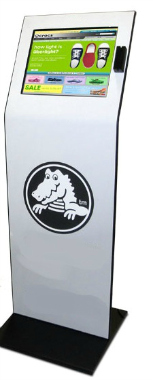 IQ's Self Service Ordering Kiosks can be customized for any food service business. Based out of Edmonton & Calgary, IQ's in house development team can build a fully customized Self Service Ordering experience for your Restaurant.
IQ's self serve kiosk solution allows customers to seamlessly place orders using an interactive touch screen kiosk system. Enhance your customer experience, reduce labor costs and automate the ordering process with IQ's Volante Self Service Ordering Kiosk
See below for a brief demonstration of IQ's Self Service Ordering Kiosk
For more information or a live demo Contact us or
call our head office in Edmonton at 780-701-1941 or toll free at 877-873-1784.