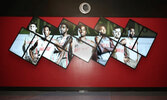 Technology is always evolving, so it's no surprise that digital signage trends will always be evolving, too.
Trends come and go, but that fact that digital signage is an incredible asset to your business will always stay.
________________________________________________________________________________________________________________________________
________________________________________________________________________________________________________________________________
Here's what's hot in digital signage trends in 2017:
Self-Serve Kiosks and Tablets
Kiosks and tablets have become and ultimate self-serving digital solution to customers' needs, and they ultimately provide huge value and convenience to employers who decide to use them in their businesses.
Many restaurants are adopting this popular trend, and we even touched upon it in one of our recent blog posts when we highlighted Toronto Pearson Airport's use of iPads for customers to order food on.
Take a look at a big name like McDonald's. Self-serving kiosks now enable customers to simply tap a screen and punch in their customized order without the help of multiple workers.
An added bonus to jumping onto the kiosk and tablet bandwagon? In 2015,
Taco Bell announced
that purchases made off of the self-serving kiosks were 20% more money than those taken by human cashiers.
Wayfinding
Millennials like things fast and they like things instantly. Long gone are the days of staring at a map from the gas station trying to find your route. Now, Google Maps allows people to simply type in their destination for instant and easy-to-follow directions.
Wayfinding is no different. You've more than likely seen digital screens in malls where you are able to visually see the layout of all the stores. This trend is now growing, with wayfinding "finding" its way into buildings, campuses, venues, public spaces, residential communities, hotels, resorts and more.
What's next for this digital signage contender? Segwaying 2D maps in 3D immersive experiences.
We've implemented wayfinding technology for clients such as the Courtyard by Marriott Hotels.
Interactive Media
Interactive media is becoming more accessible, advanced and as a result more and more popular.
Interaction is a huge indicator of generating more sales because customers love to feel like they are both engaged and part of a brand - see our blog Digital Signage: A New Way to Engage Customers.
A Despicable Me 2 advertising campaign reached 10 million shoppers with a combination of digital signage, mobile interaction, personalization and the opportunity for social sharing. Here people were able to touch screens and engage with popular movie characters, like the minions.
Social media is bigger than ever, and interactive media gives businesses the chance to take full advantage of that fact. As stated by SocialMediaToday: "Digital signage and social media go together like bread and butter." This global trend is truly blowing up.
Personalized Content
The more personal the brand, the more successful it becomes.
Many brands and experts are now recognizing that just because you have a great product, it doesn't always mean people are going to come buy it from you. We are shifting from a focus on a product to a focus on an experience, and many more people are willing to spend their money on the latter.
IQ offers strategic services to develop ideal messaging along with the proper aesthetics that suit your audience. Additionally, we can interweave the design stylings into User-Interface (UI) components so that you have consistency across your display network and interactive digital signage.
What is a digital signage system without content that stands out and gets remembered? In 2017, this concept will catch on more and more.
Book an online demo today
to say up-to-date with all things digital signage.