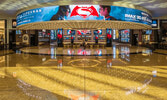 5 reasons you should use digital signage in your business
Digital signage is a solution your business can and should use to stand out from the crowd.
Why?
Brand loyalty is a thing of the past, so with consumers increasingly moving to and from different products and companies with ease, it's important that your business is using the right tools to entice and retain potential and current customers in distinctly innovative ways.
Here are five reasons your business should be using digital signage to enhance brand loyalty:
Content flexibility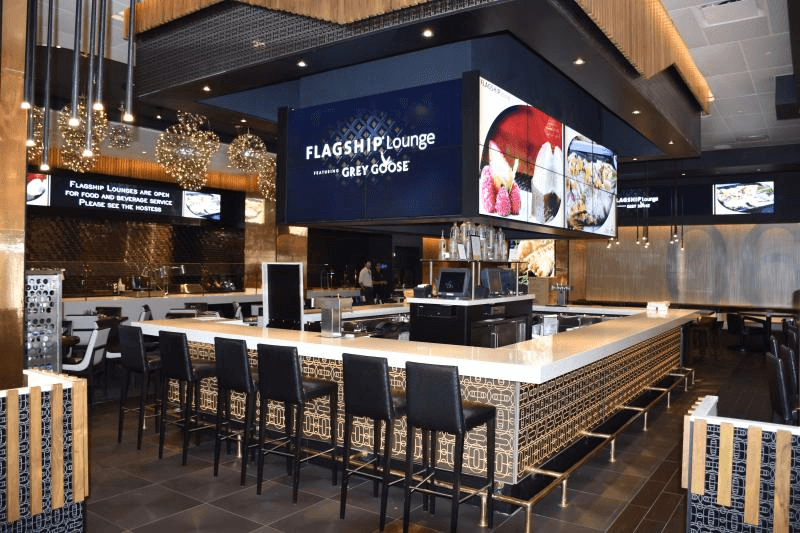 Conventional print signage is great, but it is static.
To effectively promote new and relevant content, businesses need to print and reprint much of what they display conventionally. With digital signage, what you choose to promote can change from one day to the next, in real-time, depending on your needs. Digital signage offers the ease that print does not - instant content that can be adjusted and updated. Easily advertise the daily schedule and amenities of your hotel, or new menu changes in your restaurant. The possibilities with digital signage are endless, and customers will appreciate the constant stream of relevant information.
Customer experience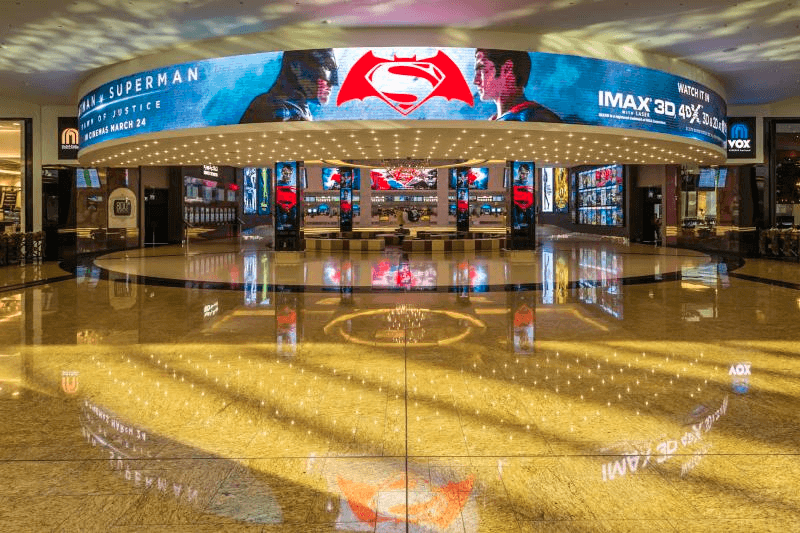 Digital signage can grab attention, and keep it.
Customers waiting in line for service can now be occupied by effective digital signage and engaging content. Give your customers the ease they are looking for with these features:
> Wayfinding
> Accessible information
> Virtual concierge
> Kiosks with mapping capabilities
> Display of daily events
These features are adaptable to a multitude of industries, so the options for your customers are endless.
VOX Cinemas is one example of a business that created an immersive, and unmatchable, guest experience with digital signage. Through the display of a variety of different screens throughout the cinema, they were able to provide guests with different content that promoted the five unique viewing opportunities the cinema offered, real-time movie scheduling and movie trailers. During large premieres and other events, Vox Cinemas can now easily deploy screen takeovers that are synced frame-by-frame across all movie trailer screens.
Don't just let your customers glance and forget; enable your customers to engage and retain.
Effective marketing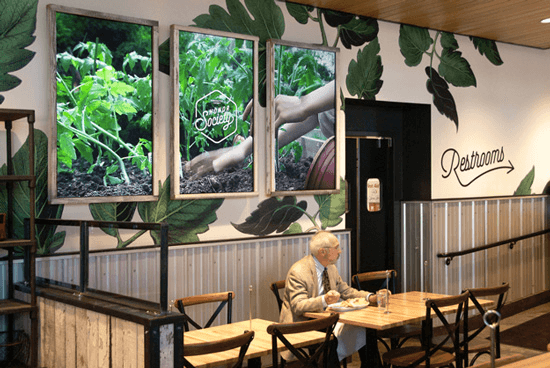 Digital signage can impact buying decisions and customer perception.
Whether your industry is hospitality, healthcare, government, or any other, you want to ensure that your brand message is getting across and that it's remembered. With digital signage, perceived waiting times can decrease as their attention is diverted from the wait and captured by your content.
Successful digital signage solutions can and will help increase brand recognition and deliver dynamic visual messages. In our digital age, this is a perfect way to market your brand. Studies have shown that there is a 20% increase of consumer purchases using digital signage that has dynamic content.
Recommended locations:
> Building entrance
> Meeting rooms
> Production floor
> Training and orientation areas
> Cafeteria
Grow social media following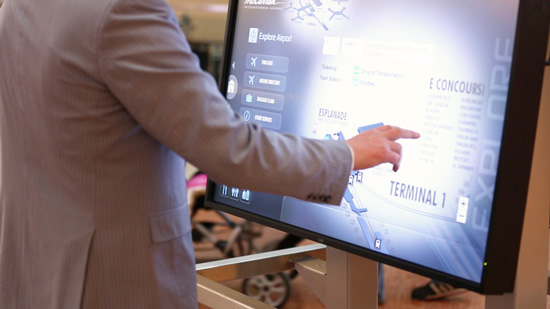 Digital signage can foster ongoing customer engagement.
One of the key features of the digital signage that was implemented at VOX Cinema was the showcasing of Twitter, Facebook and Instagram feeds on video walls. Accessible touch screens allow customers to interact with your brand and it promotes them to follow all of your social platforms, and have a chance to be featured on your feeds. Your digital signage can promote customers to take a photo, post directly on social media using touchscreens and generated hashtags, and can even prompt customers to input their email address for future use. People can now be occupied while they are waiting or within your space, and they can effortlessly engage with your online brand, generating organic and instant content.
Easy to set up and maintain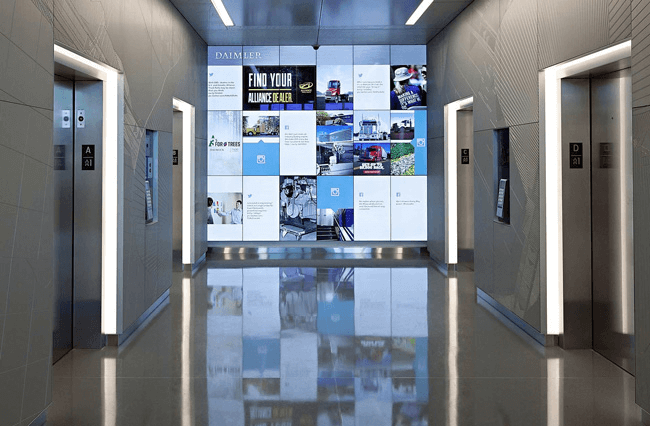 Digital signage solutions and software reduce cost of labour.
When you choose digital signage, you're also choosing to reduce the labour involved by constantly changing conventional signage. Changes are instead done in real-time, and do not require constant re-printing and transportation.
As a provider, we take a personal approach to technical support. Our industry-specific field experts have the knowledge to assist you with any of your digital signage needs, and we are fully equipped to deliver, install configure, test and train users for every product we offer. With on-site training, you and your staff will learn the ins and outs of maximizing the features of functions of your digital signage system.
All you need to do is say yes.
The future is interactive, so your business should be too.
See how the Calgary Marriott used digital signage to its full potential.