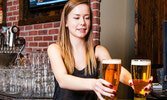 The Best All-in-One Restaurant POS System in 2017
Your point of sale system is one of the most valuable investments you will make as a restaurant owner, so choosing the correct one for your business is vital to success. As the industry rapidly changes from traditional options to more digital alternatives, it can be difficult to decide between the variety of POS systems on the market.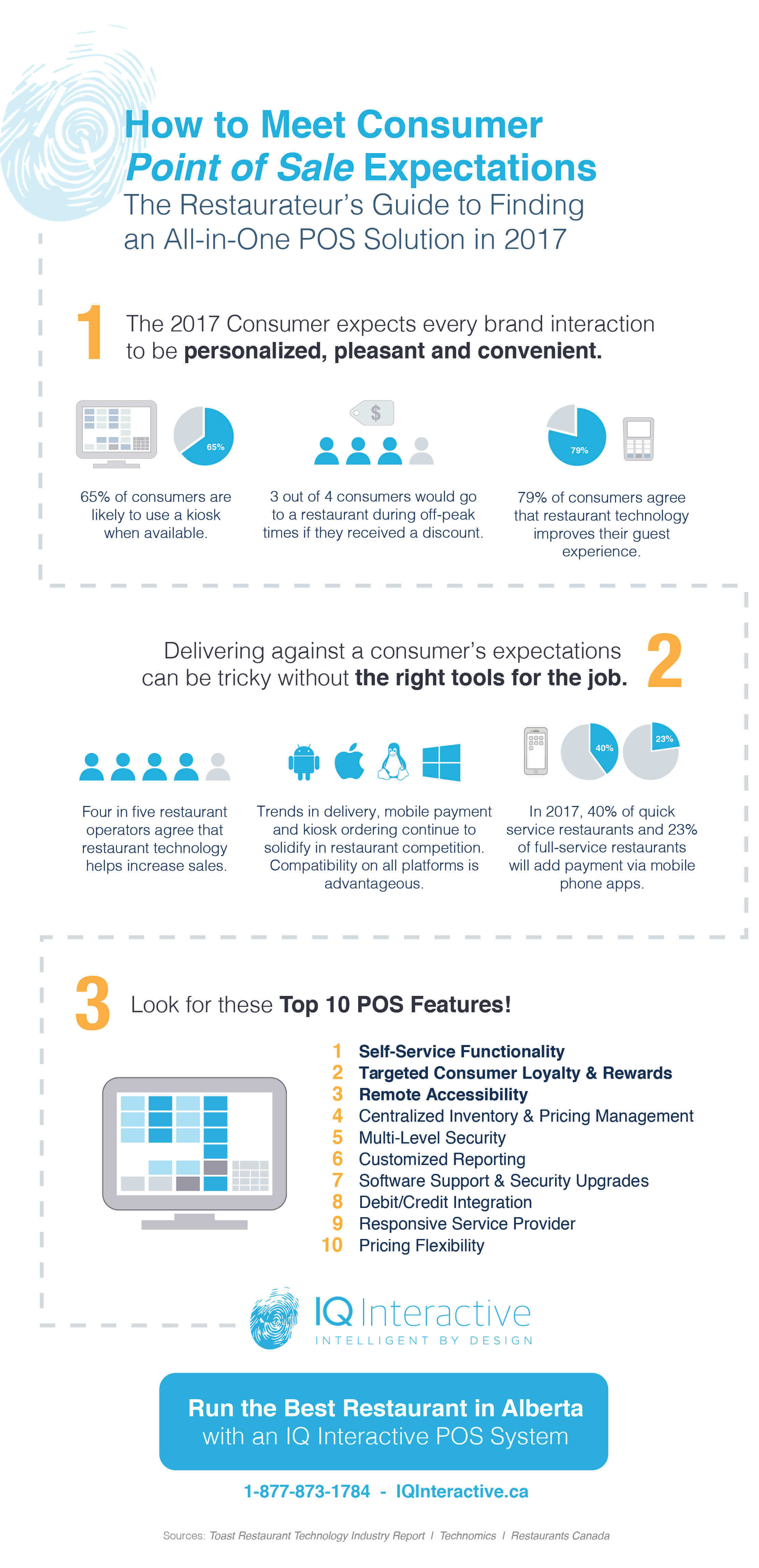 To cut down on the research you're inevitably doing, we took a look at the best the industry has to offer and did some comparisons against our own IQ Interactive restaurant POS systems.
IQ Interactive vs.
TouchBistro
In March 2017, Business News Daily published an article on the best POS Systems for 2017, identifying TouchBistro as the top option for restaurant businesses. This sleek software focuses on the simplicity and ease-of-use of their modern offering. The feature list offers mobility options, lock-in register abilities, bill splitting, custom orders, table or bar switching, automatic pricing, send to kitchen functionality, reporting capabilities and rapid customer support.
TouchBistro is strictly based on Apple infrastructure so an iPad or Mac is required to set it up and Apple's AirPort router is necessary to set up the POS network.
In addition, TouchBistro isn't a cloud-based system – although they have cloud reporting, the functionality of the POS is limited to the local device the app has been installed on. If you're running your POS from a single iPad, you'll only be able to access it from that one iPad.
IQ Features:
POS software available on any platform (Windows/iOS/Android)

Cloud-based system for instant access to your business information at any time, any place

More features to cater to your specific business needs

POS Hardware included


IQ Interactive vs.
PixelPoint
The PixelPoint POS system boasts an impressive level of versatility and flexibility. Their features include options for customized receipts, order pages, kitchen tickets and routing, as well as theft prevention, reporting abilities, and inventory management. Their greatest advantage probably lies in their global fiscal compliance. Aside from the standard POS features, PixelPoint offers loyalty program and gift card creation as well.
However, PixelPoint does not cover any of the hardware requirements for the POS system itself and suggests purchasing integrative hardware from their parent company PAR (or other partners).
PixelPoint's overall system also seems to be much more catered to quick service restaurants, bars and convenience stores; full-service restaurants and larger institutions may not find this solution as appropriate.
IQ Features:
POS Hardware included (non-proprietary: if you decided to use another software in the future, it'll be compatible with the hardware)

Software can be adapted to any form of food service or restaurant industry including full-service dining, bars and nightlife, quick service dining, self-service venues, large cafeterias or sporting centers

Greater number of carefully refined features to cater to your specific business needs


IQ Interactive vs
Micros e7 Restaurant Management System
The MICROS e7 system was designed to meet a variety of food service operations but caters specifically to the local neighborhood restaurant. They offer multiple language support, integrated credit cards and run a peer-to-peer environment without a PC, instead using the POS station itself.
Micros does provide fully touch-screen POS hardware and claims affordability and simplicity as its greatest selling points. The adaptability of the system in the face of rapid industry change, however, may leave room for want.
IQ Features:
POS software available on any platform (Windows/iOS/Android)

Packed with current, industry-essential features to make sure your business isn't left behind

Modern software interface and sleek design

iPad-based touch interface for better user feedback


IQ Interactive vs.
POSGuys
POSGuys is another vendor that was shortlisted by BND as an excellent option for POS systems, offering several different packages for the restaurant industry. Taking a look at their Preferred Restaurant POS package, POSGuys provides hardware solutions along with their software. Their computer (that runs Windows 7) is packaged with a thermal receipt printer, cash drawer and card reader. The computer also comes bundled with Aldelo Pro, a full featured POS software.
Although they provide wireless options for their system, POSGuys is not a cloud-based system, meaning you're grounded to your local network to retrieve data and reporting. The computer's OS is restricted to Windows, is slightly less modern and they do not offer mobile apps on either iOS or Android. Although they do provide customer support between business hours in their timezone, POSGuys are an American company. For Canadian businesses located in Alberta, this could pose logistical problems if the need arises for specialized support.
IQ Features:
POS Software available on any platform (Windows/iOS/Android)

Android/iOS phone apps for mobility and any-time access

Cloud-based platform for ease of access

More features to cater to your specific business needs

Canadian company for local, customized support


Choose IQ Interactive as a Restaurant POS Alternative
IQ Interactive is a Canadian-based company with specialized experience in restaurant, hospitality and retail industries. The IQ POS system offers a multitude of features, offering restaurant owners the versatility, accessibility, and security of an enterprise solution with a friendly price tag.
An IQ Interactive POS System includes:
Software that runs off

any

system platform

Non-proprietary hardware with

self-service

options

Mobile apps to combine marketing and customer purchases (iOS and Android)

The ability to track customer spending habits and offer targeted promotions

Customizable reporting, layouts and accounting exports

Inventory tracking and staff monitoring

Menu editing, unlimited price level configurations and recipe management

Tabs, Tables and Bartender options

The ability to independently without network or internet access

Real-time table status, tableside ordering and bill-splitting

Integration with debit/credit payment processors

Features for catering management

Includes business reporting with multi-level security settings – accessible from a central location

Comes with a Business Analysis by IQ Interactive to learn your operation style

Can include loyalty and reward programs

Software support and security updates


The Short Form
WHAT IQ INTERACTIVE CAN DO:
| | |
| --- | --- |
| Run off any system platform | ✔ |
| Offer hardware + software | ✔ |
| Provide cloud functionality for access anywhere, anytime | ✔ |
| Set up self-service kiosks | ✔ |
| Inventory Tracking + Catering Management + Customer Management | ✔ |
| Custom Business Analysis | ✔ |
| Customized Reporting + Exportable Accounting Reports | ✔ |
| Give your POS a Modern UI | ✔ |
| Create Pricing Flexible to Your Business | ✔ |
IQ Interactive provides commercial grade hardware that includes a touch screen terminal, kitchen printer & Magnetic Swipe Reader (MSR). An IQ Interactive POS solution bundles software and hardware in one to provide you with an all encompassing commercial-level product with industry specific solutions.
If you're looking for digital signage for your restaurant, we've got you covered there too. Take a look at the industry's current trends to see if your business is in need of an upgrade.
The IQ point of sale platform provides the operational capability, complete feature sets, enterprise-level reporting capabilities, secure fail-safe data redundancy and data synchronization management. We combine advanced architectural design with platform independent open-database flexibility so that your investments are protected. Most importantly, IQ works with each client to cater to the needs of their specific business by incorporating in-depth analyses. If you require a special need or customization, our team is happy to see what we can do to make it happen!
The digitization of the restaurant industry is happening quickly and business owners need to stay on top of their point of sale options. Click below to complete our questionnaire and receive our price sheet within 1 business day.