City of Calgary Interactive Touch Screen Kiosks

IQ Business Solutions Inc, Alberta's leader in Digital Signage & Visual Communication Systems is proud to announce the successful completion of its latest Interactive Signage Project for the City of Calgary!
IQ's Implementation & Design team, worked with the City of Calgary to build a one of a kind Interactive Touch Screen Kiosk which provides two way communications for the end user and City of Calgary. Working with up to 10 different live data feeds coming from varying Databases and Servers, IQ was able to successfully bring all of the various Databases together to build an Efficient and Intuitive Kiosk, which is updated real time via each Data Source with little to no resource requirement from the City Staff!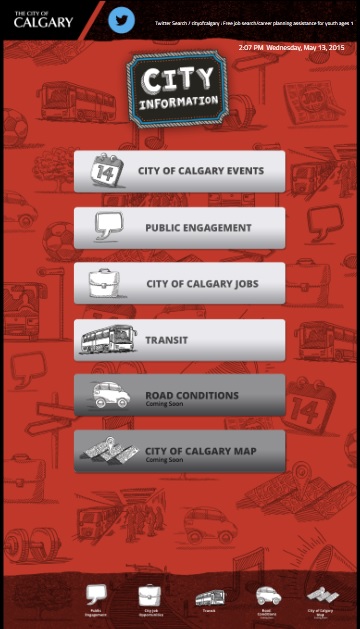 IQ's team of in-house developers, designers and integrators can take on any project and any signage project no matter how big or small. Our clients can rest assured that they are dealing direct with a qualified leader in Digital Signage, who understands the industry and has the team in house that is not afraid to innovate!
Do not get stuck with a Reseller, Contact IQ today to see how our award winning team can help bring your Digital Signage project to life.
Click here to contact IQ Sales
1-866-621-0516