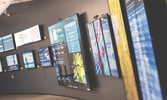 What is Digital Signage and Why Should You Use It?
While this video offers a great overview about our digital signage and how it works, what it doesn't convey are the truly innovative features of IQ Digital Signage.
Many digital signage options on the market today fail to fit the demands of consumers because they are not inventive or creative enough.
IQ is different.
We don't see ourselves as simply a technology company or service provider.
Although our software is highly technical, our interface allows you to drag and drop content that instantly displays on your screens, making our product incredibly user-friendly for any business owner or employee.
Our focal point is innovation, and we look to deliver an engaging experience to each and every person who steps foot in your establishment through our unique digital signage solutions.
How?
We turn TVs, touch screens, tablets, and anything else you can imagine, into two-way communication tools for your customers.
We can transform your screens into appealing, engaging and interactive content.
We can build digital menu boards that integrate with your Point of Sale (POS) systems, automate your display with Live Data integration, build interactive displays, and more.
So, you're probably asking yourself, why should your business use IQ Interactive Digital Signage?
Here are just a few reasons:
> Our hardware and software are both innovative and reliable.
> Our digital signage helps improve the customer experience by reducing perceived wait times and allowing customers to interact directly with screens and touch screens.
> Digital signage maximizes your visual space and improves the time your customer spends considering your services and products.
> Content is instant and can easily be changed at any time.
> Our software has the ability to integrate with the existing databases of most companies, meaning data can be updated in real-time.
> Digital signage ensures brand consistency with clean aesthetics.
> Digital signage reduces cost in terms of paper and labour.
> Digital signage can display anything from menu items, to maps, to schedules and calendars.
> Digital signage keeps customers in your establishment longer.

> Digital signage can run your content 24/7.
IQ Interactive doesn't just go away after your signage is installed. We offer constant support and strategic services so that if you're too busy to manage the signage software yourself, we can step in and take over.
Our team is able to guide you through a digital communications strategy tailored to your needs, program development and management, and content creation.
The combination of a user-friendly interface, real-time updates and a full team supporting your digital signage needs, IQ Interactive truly stands out from the rest.
Still looking for reasons why your business should take the leap and invest in IQ Digital Signage?

Book an online demo today and we can guide you through the benefits and ROI that comes with implementing IQ Digital Signage.