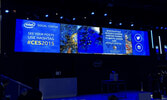 Why You Should Use a Digital Social Media Wall At Your Next Event
If you've been keeping up with our blogs, you know that digital signage is blowing the advertising game out of the water right now.
There are a multitude of different ways to use digital signage, and we want to introduce you to the latest one - a social media wall.
What is a social media wall?
A social media wall is exactly what it sounds like: a wall made up of a digital screen (or screens) that display your company social media platforms, such as Twitter, Facebook and Instagram, to event attendees.
Why should I use a social media wall at my next event?
We're glad you asked.
Social Reach
A live display of your social media channels gives you the opportunity to reach more people than just the ones who decide to show up. Unleashing your event on social media opens up a door for others to engage with what is going on, and allows them to be part of the event even though they might not be present.
Your event doesn't exist in a bubble and neither should your engagement tools.
A wall display fosters a conversation hub for any and all to join in an interactive, modern and engaging way. With the use of curated hashtags and company-specific tags, you're now reaching a possible global audience over the course of your event.
You are creating a shared social experience that anyone can now be a part of.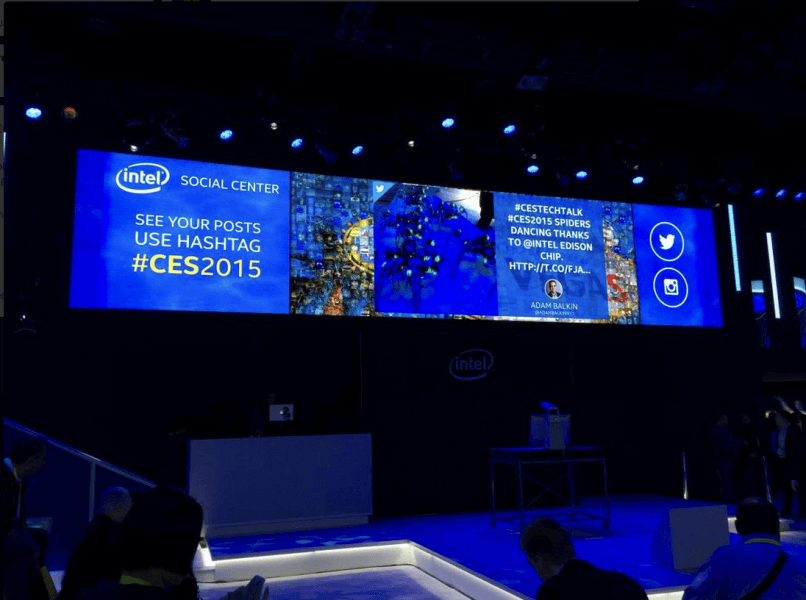 Image Source: B2C
Heightened Event and Brand Awareness
This is your chance to curate a truly unique experience at your event.
Create hashtags, brand your screens with your own logo, tagline, company colours or photos and have the chance to live stream related industry news.
If your event is specific to another brand's social media platform, or if it's specific to a company partner or sponsor, you can easily connect your screens to those relevant platforms that your audience wants to see.
Having a branded social media wall is going to make you stand out, and more importantly it's going to make your event stay in the memories of everyone who sees it.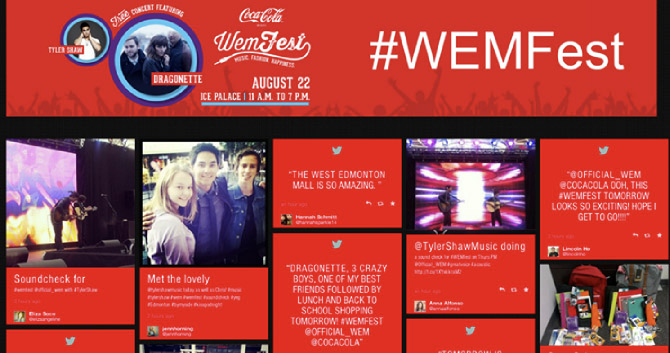 Image Source: TINT
Free Organic Content
The best part of encouraging attendees to create event-based content connected to your social media handles or unique event hashtags, is that you now have organic and usable content for during your event and afterwards.
Your feeds will be full of original photos that can be used on other platforms, in blog posts, on your website, for future marketing campaigns and more!
Audience Participation
A social media wall is a great way to get people participating with your event in an active way. Encouraging people at the event to tweet is an easy way to do this. Simply share your twitter handle and your event-specific hashtags for people to easily send out a tweet to you.
A moderator at your event can then retweet the incoming content and viola - your social media wall is now a live conversation of tweets created by those at your event, and you get free PR.
If your event is a conference, you can even encourage the audience to ask questions via Twitter (or any other social media platform) and answer them live. Your choices are endless and can be customized easily.
Image Source: TINT
"The semi-celebrity status encourages attendees to post more and in some cases results in a phenomenon known as "screenception."


This phenomenon was coined when attendees started to take photos of their posts that were already on the live display and then posting that photo of their post, yielding twice as many social media impressions from one post. Increased social media activity will expand your event's reach leading to new followers, online networking and improved social media metrics." - Event MB
Attendees are now engaged with your brand at a personal level, and they most likely feel a rush of excitement when they see their tweet displayed on your branded wall. If you want everyone involved in your store, hotel or restaurant launch, this is the way to do it - everyone loves having a few seconds of fame!
Ease Of Use
An IQ Interactive Digital Signage System is never complicated to set up, because we are here for you every step of the way. We only deliver products that are designed to function in your unique setting and achieve your business goals.
Do you want to encourage audience participation? Do you want to showcase your company's branded content? Do you want a live Instagram feed playing throughout the night?
We can easily help with any and all of those requests with curated event-specific content.
Are you interested in learning more about social media walls, or other digital signage tools? Click below to schedule your free online demo.