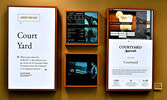 Would Digital Signage Work For Your Industry?


We're going to give you a quick and easy answer to that question - yes.
Digital signage can benefit an endless amount of industries in an endless amount of ways.
As stated by

Retail Customer Experience
, the main thing you require from an average customer, besides their money, is their trust. If you have an establishment where people are waiting or visiting, digital signage can most definitely be applied.
Now, we know that simply saying "yes" to this question does not give you a real look at why and how a digital signage system from IQ Interactive can really make your business excel. So, here's a look at what we can do for you and your specific industry:
Restaurants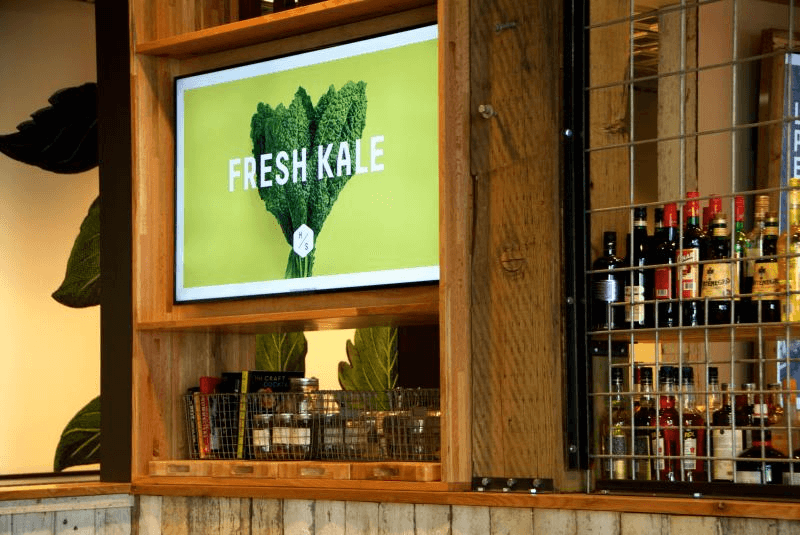 Did you know that in a recent study it was discovered that the atmosphere of a restaurant was a stronger predictor of brand image than the actual food that was served?
That's huge.
Volanté's versatile Restaurant Digital Signage Systems architecture puts power at your fingertips. Whether it be changing a menu item or reformatting the layout of corporate reports, Volanté's engine gives users the flexibility to customize details to any specification.
IQ Interactive digital signage gives you the opportunity to display menu items, photos, brand specific messaging, restaurant events and virtually anything else you desire to your customers and keep them wanting more.
Retail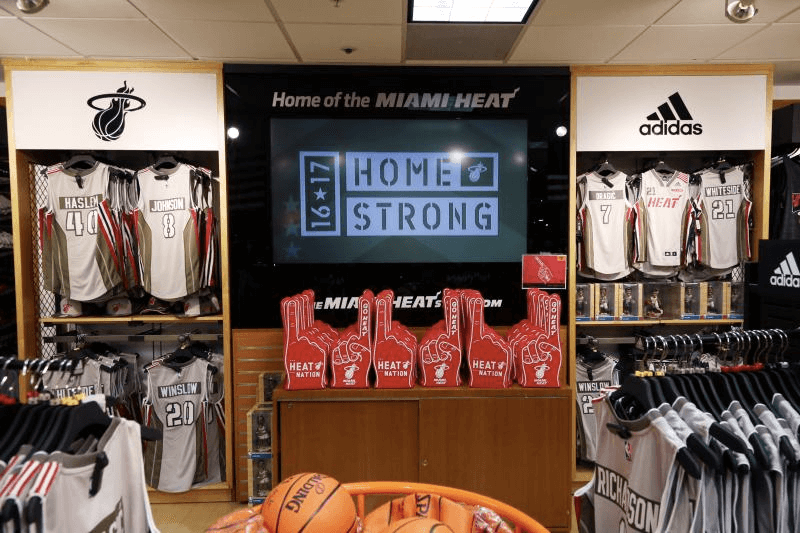 The retail industry is always in constant flux with new sales, promotions and products constantly filtering through.
A digital screen is the most flexible banner you will ever have.
Gone are the days of constantly having to switch out posters when you invest in a digital signage system for your store. Gone are the days of bored customers waiting aimlessly in long lines - they can now be entertained with moving visuals.
The four key benefits of retail digital signage?
It will drive more traffic into your store

- In a FedEx study

76%

of customers were drawn to stores with digital signage and

68%

were inclined to purchase something because of the digital signage.

It saves printing costs

It creates an immersive brand experience

It will

engage your customers
Healthcare
If this is your industry, then interactive building maps and facility directories can efficiently guide patients and visitors through your space with digital building maps and facility directories.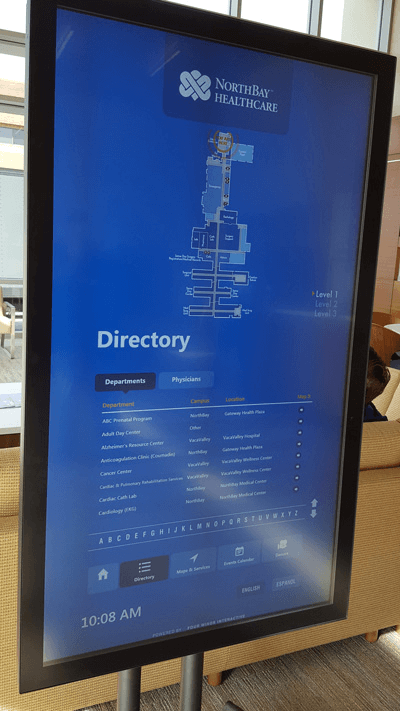 You can use digital signage to display information on visiting dos and don'ts, health issues, upcoming events, cafeteria menus, and medical specialties. Kiosks with interactive features, can be helpful to every area of your facility as well.
Our digital signage software makes it easy for you to control your messaging from one central location, and much more:
Helps direct patients & visitors

Provide building information & directories

Display menu and gift shop info

Provide information on visiting rules and processes

Provide information on your services and practices

Provide information to waiting areas
Digital signage in the healthcare industry allows you to have better informed patients who will have a better experience finding and understanding the information they need it, when they need it.
Hospitality
There is no better industry fit for digital signage than the hospitality industry. Here's why:
You are able to simplify communicating information to your guests, and help them find their way through the hotel with digital signage and kiosks as well as showcase your concierge services, events and conferences, and menus for cafe and restaurants.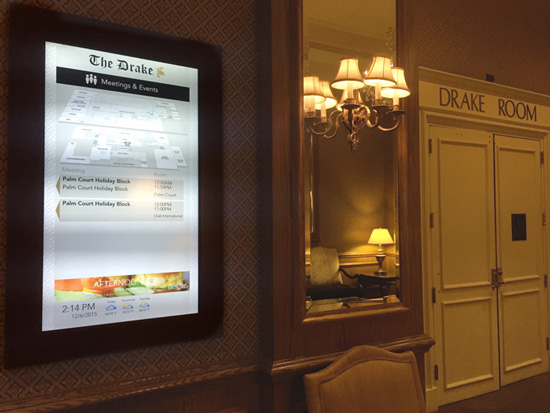 Digital mapping can also be used at select locations throughout the hotel so guests do not have to remembering the direction details during the check-in process or use a paper maps.
A virtual concierge can provide a directory of restaurants, entertainment and other valuable information. The best part? All of this content can be personalized to the local area and for hotel guests in a way that's superior to common Web-enabled devices. Payment and Registry Kiosks in your main lobby can be used to speedup guest checking-out and payment transactions. Additional information and paperwork can be provided by the kiosks.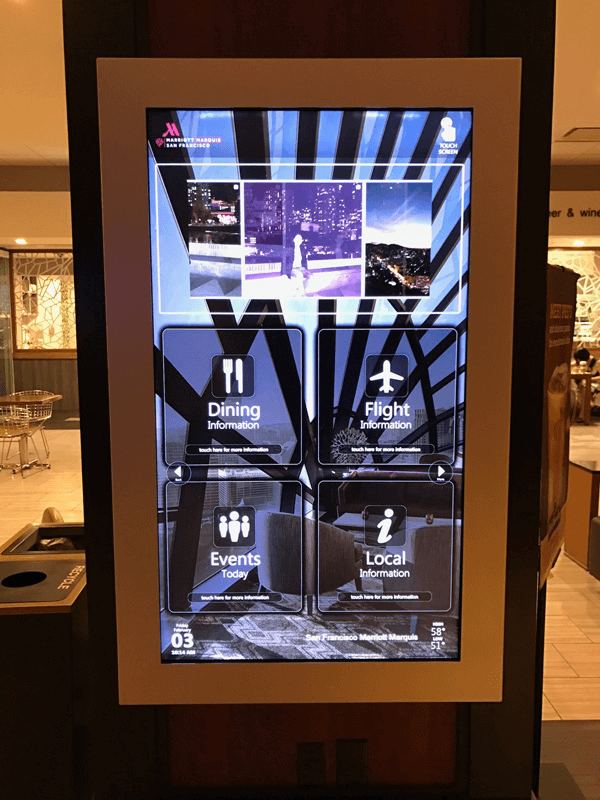 Along with self-service kiosks, hotel digital signs are a great way provide your guests with a great experience stay at your hotel.
Curious to learn more about digital signage in the hospitality industry? Download our FREE case study about how we increased brand intimacy for the Courtyard by Marriott using digital signage.
Corporate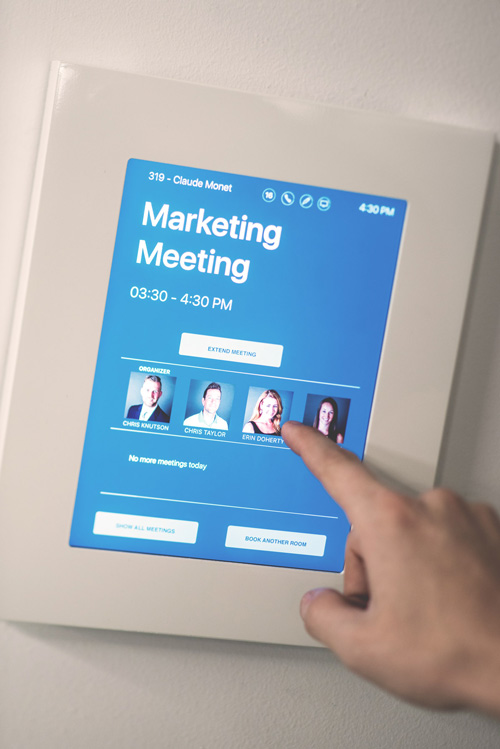 We believe that employees are every bit as valuable and important as customers. That being said, digital signage is a great option to implement when dealing with the corporate industry.
Corporate digital signage is simple way to move some of your constantly changing company messaging, policies and news from print to a digital display. Using an IQ Digital System makes it straightforward to create, display and distribute vital information.
Take control and effortlessly share internal messages with your employees so they are constantly kept in the loop. Here's just a few other things you can do with corporate digital signage:
Display daily events or meetings

Help visitors find their way with building maps & directories

Feature services or products

Display scheduling, sales, product or internal trending information

Use for employee training

Use for directing attention to specific processes you want to to know more about

Show health and safety messages

If you have corporate dinner areas display menus

Make staff aware of an emergency information

Display investor information
Digital signage can thrive in a multitude of different industries, and the ROI on investing in a system is a long-term investment you can feel confident about.
Download our FREE case study to learn more.